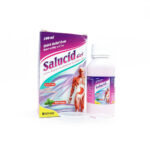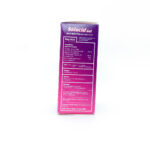 Alumina, Magnesia, and Simethicone Suspension USP
Salvavidas Pharmaceutical Pvt Ltd is a leading supplier and exporter of Alumina, Magnesia, and Simethicone Suspension USP.
How do Alumina, Magnesia, and Simethicone Suspension USP work?
Alumina, Magnesia, And Simethicone Suspension USP is a combination of two antacids (Aluminium Hydroxide and Magnesium) and an antifoam (Simethicone). Antacids neutralize excess acid in the stomach. Antifoam dissolves air bubbles and allows air to pass through easily.
What if you forget to take Alumina, Magnesia, and Simethicone suspension USP?
If you miss a dose of Alumina, Magnesia, and simethicone suspension USP, take it as soon as possible. However, if it is almost time for your next dose, skip the missed dose and go back to your normal schedule. Do not double the dose.
Special precautions for storage
Store below 30°.
Alumina, Magnesia and Simethicone Suspension USP is used in the treatment of bloating, abdominal distension and stomach ulcers. It helps relieve symptoms such as stomach pain or irritation. It also helps to neutralize and release excess gas in the stomach.
In Acidity, Alumina, Magnesia and Simethicone Suspension USP reduces excess acid in your stomach, preventing heartburn and indigestion. Usually it is used together with other medicines to control your condition. Keep taking it for as long as your doctor advises. You need to take this medicine regularly to get the most benefit from it. Eat a high-fiber diet, avoid fatty or spicy foods, and drink plenty of water while taking your medication to make sure you stay hydrated. In stomach ulcers Peptic ulcers are painful sores that develop in the inner lining of the stomach or intestines (intestines). Salucide Gel 200ml reduces the amount of acid produced by your stomach, helping to prevent further damage to the ulcer while it heals naturally. You may be given other medicines along with this medicine depending on the cause of the ulcer. You must continue to take Salucide Gel 200mls as prescribed by your doctor for it to be effective, even if your symptoms seem to go away. flatulence Bloating refers to the excessive accumulation of gas in our stomach due to abnormal muscle movements in our stomach and intestines. Salucide Gel 200ml improves the circulation of food in the stomach and helps prevent bloating. You have to do it exactly as prescribed for it to be effective. Some simple lifestyle changes can help prevent or reduce bloating. Eat healthy, avoid spicy or fatty foods, exercise daily for at least 30 minutes, and don't overeat.
Your doctor or nurse will give you this medicine. Kindly do not self administer.
| | |
| --- | --- |
| Generic Name : | Alumina, Magnesia and Simethicone Suspension USP |
| Brand Name : | Salucide Gel 200ml |
| Available Strength : | Aluminium Hydroxide (400mg) + Magnesium (400mg) + Simethicone (50mg) |
| Packing : | 200 ml Bottle pack |
| Pack Insert/ Leaflet : | Yes |
| Therapeutic use : | Gastroenterology Products |
| Productions Capacity : | 1 million/month |
Product Inquiry Form
Your details will not be published