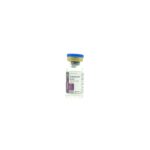 Zoledronic acid injection 4 mg
Salvavidas Pharmaceutical Pvt Ltd is a leading supplier and exporter of  ZOLEDRONIC ACID INJECTION 4 MG in various packaging. Zoledronic acid injection 4MG is used to treat or prevent weak bones (osteoporosis) caused by menopause or the use of steroids. This medicine can reduce the risk of fractures. It is also used to treat high calcium levels in cancer patients
How does Zoledronic acid injection 4 mg?
Zoledronic acid injection 4MG is a bisphosphonate. It works by suppressing the activity of osteoclasts, the cells that cause bone destruction. This strengthens the bones and minimizes the risk of fractures.
Special precautions for storage
You need to follow the steps to handle cytotoxic drugs safely.
Zoledronic acid injection 4MG is used to treat or prevent weak bones (osteoporosis) caused by menopause or the use of steroids. This medicine can reduce the risk of fractures. It is also used to treat high calcium levels in cancer patients.
In the case of osteoporosis Osteoporosis is a common disease that weakens bones, makes them brittle, and makes them more prone to fractures. This generally occurs in postmenopausal women. This condition can be treated with bone-strengthening medications. Zoledronic acid injection 4MG is a type of drug called bisphosphonates. It slows down the rate at which the bones of your body are destroyed. This maintains bone density and reduces the risk of fractures. Injections are usually given once a year to treat osteoporosis and every two years to prevent osteoporosis. You can improve bone strength by exercising regularly (especially gaining weight), eating healthy foods that contain calcium and vitamin D, and reducing alcohol and tobacco consumption. Calcium and vitamin D3 supplements are also effective. For hypercalcemia Calcium is a mineral found in various parts of the body and has many functions such as bone growth. Most of your calcium should be in your bones. If the blood contains more calcium than usual, it is called hypercalcemia. It is a serious condition and affects many cancer patients. Zoledronic acid injection 4MG is a type of drug called bisphosphonates. It reduces the amount of calcium in your blood by slowing the rate at which your body's bones are destroyed. The drug is usually given only once as an injection to treat hypercalcemia, but additional doses may be needed. Make sure you keep all your promises with your doctor. Immobility exacerbates hypercalcemia. Exercise regularly, especially with weights, wherever possible. Do not take calcium or vitamin D3 supplements, and try to reduce them in your diet.
Your doctor or nurse will give you this medicine. Do not manage it yourself.
| | |
| --- | --- |
| Generic Name : | Zoledronic acid injection 4 mg |
| Brand Name : | Zalsal 4 |
| Available Strength : | 4 mg |
| Packing : | Vial |
| Pack Insert/ Leaflet : | Available |
| Therapeutic use : | Antineoplastic agents |
| Productions Capacity : | 1 Million Nos/ Month |
Product Inquiry Form
Your details will not be published