Levonorgestrel Tablets BP 1.5 mg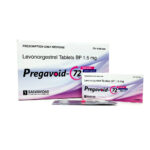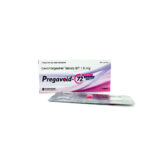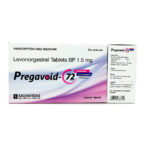 Introduction
Levonorgestrel Tablets BP 1.5 mg
Salvavidas Pharmaceutical Pvt Ltd is a leading supplier and exporter of Levonorgestrel Tablets BP 1.5 mg.
How do the Levonorgestrel Tablets BP 1.5 mg Work?
Levonorgestrel Tablets BP 1.5 mg is a progestin (female hormones). It prevents pregnancy by temporarily stopping the release of an egg from the ovary, or preventing fertilization (union) of the egg by sperm. It may also alter the lining of the uterus (womb) to stop a fertilized egg from attaching to the uterus.
What if you forget to take Levonorgestrel Tablets BP 1.5 mg?
If you miss a dose of Levonorgestrel Tablets BP 1.5 mg Tablet, take it as soon as possible. However, Although PREGAVOID – 72 significantly reduces your chances of pregnancy, if your periods are delayed by more than a week, a pregnancy test is recommended.
Special precautions for storage
Keep this medicine out of the sight and reach of children. Store below 25°C. Store in the original package in order to protect it from light.
| | |
| --- | --- |
| Product Name : | Levonorgestrel Tablets BP 1.5 mg |
| Trade Name : | PREGAVOID - 72 |
| Available : | 1.5 mg |
| Packing : | 28 tablets in a strip, packed in the carton. |
| Pack Insert/ Leaflet : | Yes |
| Therapeutic use : | Emergency contraception |
| Productions Capacity : | 1 million TABLET/month |
PREGAVOID - 72 is an emergency contraceptive medicine that prevents you from getting pregnant. It may be taken within 3 days or 72 hours of having unprotected intercourse (sex). It restricts an egg from being released from ovaries. Secondly, it makes the fluid (mucus) in your cervix thicker, which makes it more hard for sperm to enter the womb. Additionally, it prevents thickening of the lining of your womb, thereby making it unfavourable for an egg to grow in it. PREGAVOID - 72 is a reliable and safe method for contraception, if used correctly. Take it as directed by the doctor to get the most benefit.
Take this medicine in the dosage and time as advised by your doctor. Swallow it as a whole. Do not chew, crush or break it. PREGAVOID - 72 may be taken with or without food, but it is better to take it at a fixed time.
Product Inquiry Form
Your details will not be published